Streambox at IBC in Collaboration with Amazon Web Services
Amsterdam, 9 September, 2022 – Streambox, a leader in remote workflows for Post Production and Content Contribution, will be part of a demonstration that showcases AWS cloud-based solutions for Media & Entertainment across a full range of workflows, including editorials, color grading, VFX and audio.
The demonstration will include a live session in a virtual video-editing environment that includes Adobe Premier and Streambox Spectra SaaS applications, enabling Editors and other Creatives to work from anywhere in the world using only a laptop and a high-speed connection.
Spectra extends the capability of virtual Cloud apps by providing a color accurate, low-latency stream to multiple remote collaborators anywhere in the world.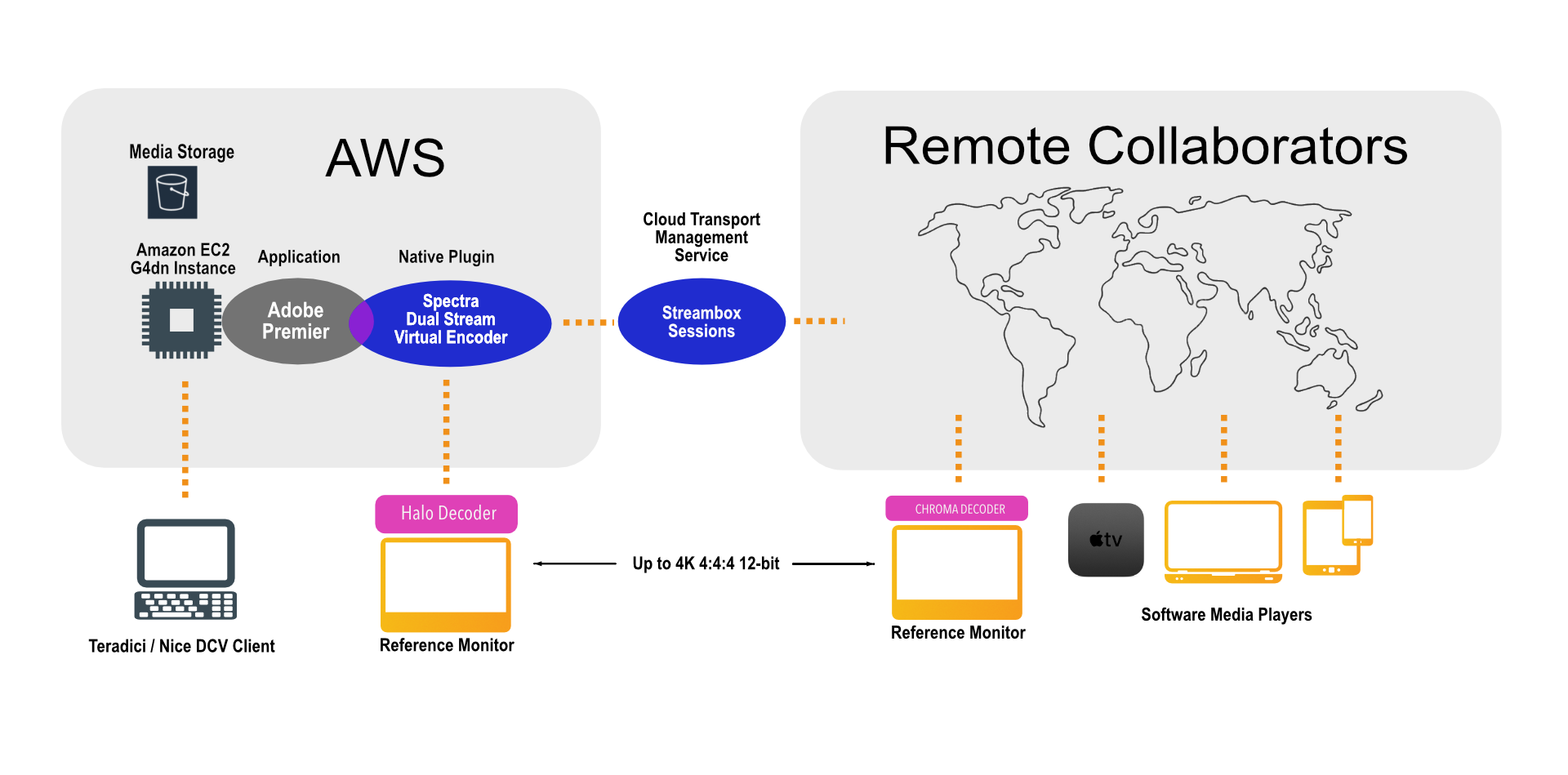 Bob Hildeman, Streambox CEO, comments: "Spectra is one of many new solutions we have developed as part of our commitment to the exciting world of virtual media production and distribution. We are super excited to be part of the Amazon demonstrations at IBC"
Streambox personnel will be on the booth (Hall 5 Content Everywhere 5.C80) during the show – please reach out to sales@streambox.com to arrange a personal demo and to learn more about our full range of streaming solutions.
About Amazon Web Services
For over 15 years, AWS has been the world's most comprehensive and broadly adopted cloud platform. AWS offers over 200 fully featured services for compute, storage, databases, networking, analytics, robotics, machine learning and artificial intelligence (AI), Internet of Things (IoT), security, hybrid, virtual and augmented reality (VR and AR), media, and application development, deployment, and management from 84 Availability Zones (AZs) within 26 geographic regions. Millions of customers—including the fastest-growing startups, largest enterprises, and leading government agencies—trust AWS to power their infrastructure, become more agile, and lower costs. To learn more about AWS, visit aws.amazon.com.
About Streambox
Streambox is a pioneer in the development of technology for streaming high-quality video and audio, and a leading provider of remote workflow solutions for the professional media industry. Streambox's Emmy Award winning streaming encoders and decoders are notable for their unique ability to transport 4K DCI, 4:4:4 12-bit and 16-channels of audio in support of cloud-based critical reviews and collaboration. Streambox has recently delivered an industry-first software solution for virtual encoding and decoding in the cloud, supporting cloud-based virtual apps such as DaVinci Resolve, Adobe Premier and Avid Media Composer. Learn more at www.streambox.com.